U.S. Government software solution tracks freight with literal military precision. Here's how:
Tracking shipments and hitting deadlines are two of the most important aspects of your logistics business. You need to get your freight from A to B quickly, and you need to be able to keep your clients and business partners informed of the status of their goods.
Expanding your in-transit visibility can close the black holes within your supply chain and improve performance while cutting down on mistakes that cost your business huge amounts of money and time. 
Over the past few decades, new technology and software solutions have made tracking shipments easier than ever before. Recent trials suggest Tactical Edge's Telemetry, a government-owned logistics software, can optimize tracking and expand in-transit visibility to new levels. 
The tech:
Developed to provide In-Transit Visibility on shipments for the United States Military, Telemetry possesses a wide range of tracking capabilities for receiving, processing, evaluating, and distributing information directly to web and handheld platforms. Soldiers and commanders can receive real-time updates and alerts about shipments sent directly to their hand-held devices in the field.
Telemetry builds on data pulled from the military's established Authoritative Data Sources without any manual intervention, then analyzes the data through machine learning algorithms and sends it to command. The system provides real-time tracking notifications with high-value intel, such as a shipment's arrival at a point of interest.
The test: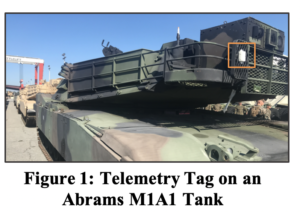 For the Telemetry pilot program, The Commanding General, Marine Corps Logistics Command (CG LOGCOM) partnered with Headquarters Marine Corps (HQMC), Installations and Logistics (I&L), Logistics Distribution Policy Branch (LPD) and Tactical Edge to track the delivery of 5 M1A1 Abrams tanks, from Albany, GA to Barstow, CA.
In Albany, 7 tanks were prepared for rail shipment – 5 had Telemetry tags configured to track the tanks as individual assets and as a collective group. The tags were set up to send alerts every 10 minutes while in motion and every six hours while stopped.
A group of Marines was instructed by Tactical Edge on how to track the shipments through the Telemetry Software.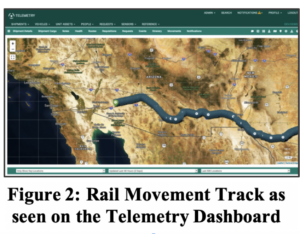 The Takeaway: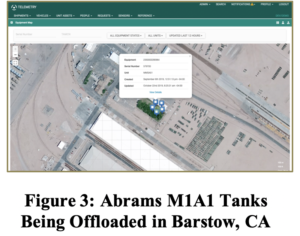 Telemetry successfully tracked the tanks on their 6-week cross-country journey and alerted LOGCOM personnel of their timely arrival in Barstow, California. The tanks were offloaded at the base and then disassociated with their Telemetry tags so they could be used for future shipments. Mission complete.
This tracking technology accurately provided real-time insights into the tanks' location. Mike McCloud, Distribution Management Branch Head of LOGCOM was impressed with the performance of Telemetry, "I am very excited about the immense potential Telemetry has to support the Marine Corps efforts to provide enterprise global logistics awareness. I believe Telemetry is a game changer and I'm excited to be a small part of the team that is implementing it as part of the Marines Corps overall modernization efforts.
Here at Tactical Edge, we believe that this could be a game-changer for the entire logistics industry. We look forward to helping companies implement it in the future.
Want to learn more about Tactical Edge's role in the Pilot Program or how the underlying Telemetry tech might be able to help your business moving forward?