TE Demonstrates "Log Widgets"
Tactical Edge's Ken Croston  conducted a briefing/demonstration of the "LOG WIDGETS" to commands throughout the Department of Defense. Tactical Edge has developed these widgets using Project Manager Mission Command (PM MC) Command Post Computing Environment (CP CE)'s web-based framework, called the Ozone Widget Framework (OWF). The OWF is a Web Application framework that allows a user to render multiple web applications in a single browser window that will bring the next evolution of BCS3 and BCS3-NM to the field. Commands who have received the "LOG WIDGETS"  capability briefing are:
Army Material Command (AMC)
Defense Logistics Agency (DLA)
Defense Logistics Agency Operations Research and Resource Analysis (DLA DORRA)
Mission Command Training  Support Brigade
Marine Corps System Command
377th Theater Support Command (TSC)
184th Expeditionary Support Command (ESC)
155th Armored Brigade Combat Team (ABCT)
Defense Logistics Agency Federal Emergency Management Agency (DLA FEMA)
Marine Corps Forces Central Command (MARCENT)
United States Central Command (CENTCOM)
Marine Corps Logistic Command (LOGCOM)
Logistics Exercise and Simulation Directorate (LESD)
The reaction to the briefing was incredibly positive and the anticipation and enthusiasm of the possibility that the "LOG WIDGETS" may replace the thick client was clear in all their comments. The most notable attributes of the OWF Web applications are:
Users connect using their existing computers eliminating the problem of maintaining an additional computer on the network.
Users can begin to utilize nearly the full feature set of the Widgets with little to no instruction.
The OWF Log Widgets is a tool that gives users "One Stop Shopping" in their day to day operations. Log Widgets uses multiple data feeds/sources that will allow a user to get the most recent information utilizing one system.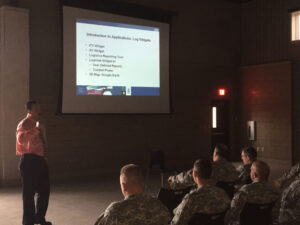 Ken conducted the "LOG WIDGETS" capabilities briefing to all ranks, both civilian and military, from a  Major General and Senior Executive Service (SES) personnel to lower ranking Soldiers, Marines and Civilians personnel who are the subject matter experts who would benefit in such a superb program in their daily duties. Audiences were as large as 120 personnel (LOGCOM), 67 personnel (184th ESC) to entire sections within major commands (AMC, DLA, DORRA, CENTCOM).  Ken displayed the capabilities to Strategic Commands, Tactical Commands, Marine Corps, National Guard, Army Reserves and Civilian Agency's with the same positive results. All were very impressed and excited with the "LOG WIDGETS" capabilities. All have stated the system is much needed and all wanted to know when "will it be released". Without a doubt the "LOG WIDGETS" is exactly what the field needs and will be a positive impact on how all the above conducts their day to day operations and will be a viable tool that they can count on to support the "War Fighter".
To learn more about Tactical Edge's service offerings, visit https://www.tacticaledge.us/services/
Like us on Facebook: https://www.facebook.com/pages/Tactical-Edge-Inc/154082798080966
Follow us on LinkedIn: https://www.linkedin.com/company/tactical-edge-inc-