Supply Chain Innovation During a Crisis
Here are two truths about economic recessions and innovation. The first truth, People consume a lot more pizza and comfort food during these times. For example, since the shutdown, Domino's Pizza, and Papa John predict growth over the first quarter of 2020. Last week, popcorn sales were up 48%, pretzels up 47%, and potato chips up 30% compared to a year earlier, according to Nielsen data. More on this later. The second truth is there's a history of bold innovation during bad economic downturns, and this time will be no different.  
The unprecedented shutdown of parts of the United States economy will force many industries and countless companies to adapt in order to survive. At the same time, if history is a guidepost, this tumultuous economic time should bring significant risk-taking and innovation.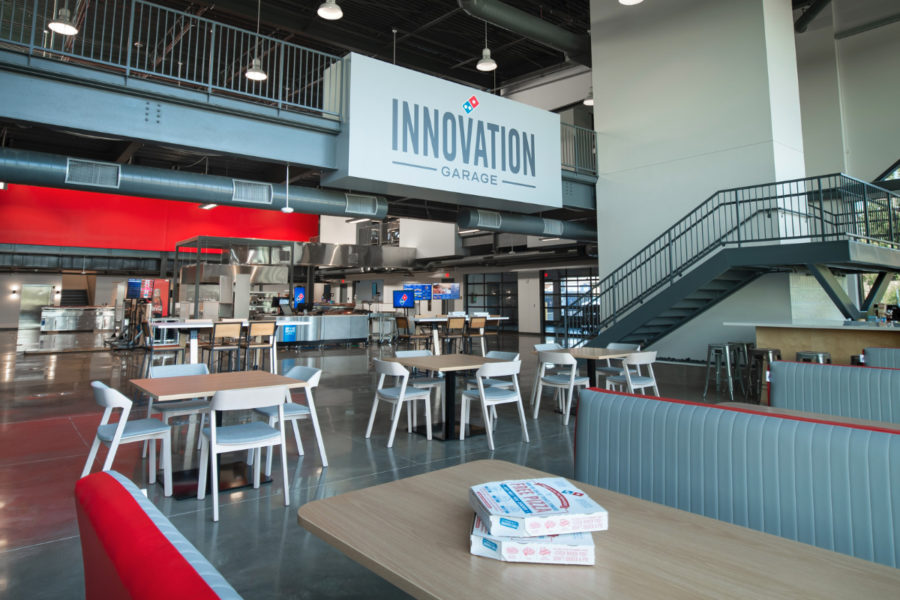 Downturns Inspire Innovation
Economic downturns cause leaders to innovate to distinguish themselves in the marketplace. Hardship causes companies to restructure and streamline their operations.
Innovation becomes more comfortable. Leadership's focus on the business actually makes it easier to innovate because the status quo is upended. It becomes more reasonable and cost-effective to take risks. In short, innovation is more valuable during these times. 
A few historical examples from the Great Depression for reference:
The Great Depression saw its share of start-ups, including Hewlett-Packard and Polaroid.

Fortune Magazine launched in Feb. 1930, four months after the stock market crash, at the whopping price of $1.00 per issue.

Kraft launched Miracle Whip, even though it already sold mayonnaise. The reason? Sales were slipping and very shrewdly saw themselves losing market share. So instead of trying to polish their mayonnaise, they created a rival product that turned into an iconic brand.
But, you don't have to go that far back, let's use this article to focus on a company that innovated coming out of the last economic downturn, the Great Recession of 2008-2009. 
And, let's get back to focus on what matters most, pizza! 
Domino's pizza completely altered their trajectory by innovating product and focussing on their supply chain,  and in doing so, created one of the great business stories of the 21st Century.  
Bad Pizza
In 2008, Domino's Pizza's business was cold. With the onset of the great recession, the economy was flat, and so was the pizza giant's performance. After years and years of low-level growth, their stock price had bottomed out, and projections for the company looked grim. 
Worst of all, in 2009, Domino's came in last place next to Chuck E Cheese in a consumer brand preference survey. The verdict was obvious, people did not like Domino's Pizza, and their perception of the company as a whole was negative. 
Some radical changes needed to happen to improve their product and perception. Then CMO, Russel Weiner, came up with an idea of changing the company top to bottom. Changing the pizza recipe, changing the way the business operated, and changing how Domino's spoke to their customers.
Full Transparency
In 2009, Domino's Pizza embarked on a marketing campaign that Ad Age later called, "Radical Authenticity." I think it could be called "Full Transparency."
Dominoes decided to be completely honest about where it was as a company in their marketing and advertising. They knew their customers were sick of excuses. So, they created a documentary that featured a focus group where customers voiced their disgust at the current Domino's pizza. This documentary was carved up and used in commercials on television, radio, and online. In the footage customers railed against the pizza with comments like:
"It tastes like cardboard"

"The sauce is like ketchup"

"The pizza is totally void of flavor."
It was a marketing tactic that some called either brave or dumb.
In the ads, Domino's executives promised to do better and showed how the chefs were revising the entire menu top to bottom; changing the recipe of the sauce, the cheese, and the crust.
Domino's also ran ads that highlighted the tricks that companies use in food advertising to make their product look better than it is. They created a "Show Us Your Pizza" campaign and asked customers to post pictures online of their delivered pizzas to make sure they looked the same as their ads. By getting their customers involved, they made the conversation flow two ways. 
By becoming utterly transparent, Domino's showed a willingness to change. They revealed how they were listening to the people that mattered the most, their customers.
Pizza to Supply Chain Innovation
At the same time, Domino's began to invest heavily in technology that would enable them to deliver their products in innovative ways, while shining a spotlight on the supply side of their business. 
This multi-prong approach has enabled customers to order easier and track their orders easier no matter where they were.
How seriously has Domino's invested into tech? Currently, half of the employees at their headquarters work in software and analytics. It's evident that Domino's views themselves not as a pizza business…but as a pizza DELIVERY business.
For example, Domino's launched their Pizza Tracker technology in 2008, which allowed customers to track their order from the oven to their doorstep. This technology turned into the Domino's app in 2011, and it's still growing. 
Within the tech, Domino's emphasizes transparency into metrics. Inside stores, video screens show managers the average amount spent per order, rank against other stores and new customer totals. This tech allows stores to make changes and optimize their revenue.  
According to former CEO Jack Doyle, "Domino's is a tech company, that just happens to make pizza."
At the same time, Domino's made it easier to order too. They launched Order Anyware, their omnichannel ordering initiative. Customers can now request a pizza from their phone, messenger app, smartwatch, smart TV, even inside a car's navigation system.
In 2020, Dominos is testing GPS delivery tracking. This tech advancement could be a win/win for the company. It will give customers a more transparent delivery process, but it will also provide franchise owners with valuable data to make the delivery process more efficient. 
The next step? Autonomous rovers delivering pizzas. Instead of relying entirely on their drivers or third-party vendors, Domino's is investing in robotic delivery. Domino's has been testing un-manned delivery since March in Houston and reporting that it's going well.
Turning Supply Chain Innovation into Cash
With so much investment in tech, how did Domino's translate this into sales? And, how much did Domino's supply chain innovation change the business?
In 2009, only 20% of Domino's sales were happening online. They were perceived as a traditional phone order business. After just two years of launching the app and focussing on online ordering, sales grew overall by 20%.
By 2018, online ordering comprised of 65% of their business. Domino's omnichannel ordering initiative generated over 60% of US sales or 3.5 Billion in 2017, up from 1 Billion in 2012. That's a lot of pizza. 
Their footprint has grown too. In 2009, there were 9,000 Domino's stores. As of mid-2019, there were 16,000.  
Plus, Domino's stock price is up 2,500% over the past ten years. 
Innovation will Happen
During a rough economic time, with weak brand favorability, and poor projections, Domino's was willing to take huge risks. The pizza giant created a road map for companies during hard economic times. They invested in innovation and saw an opportunity to leverage a critical part of their business, their supply chain.
What supply chain changes or innovations will we see in the coming few years? 
With the expansion of 5G, AI, and machine learning, there's cause for optimism. Be sure and take confidence in the fact that leaders will leverage new technology and take bold moves to adapt, survive, and thrive.